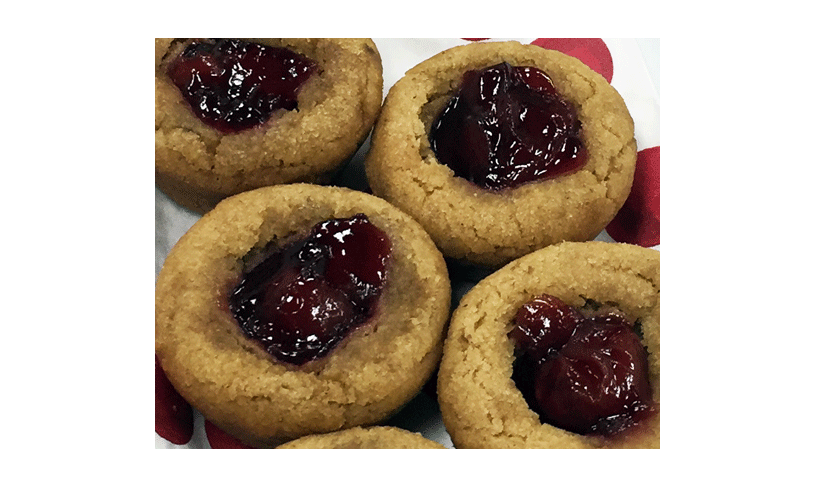 Ingredients
1/2 C Sugar
1/2 C Brown Sugar – firmly packed
1/2 C Butter, softened to room temperature
1/2 C Peanut Butter
1 Egg
1/2 t Vanilla
1 1/4 C Flour
3/4 t Baking Soda
1/4 t Salt
1 jar Benjamin Twiggs Michigan Cherry Jam or Cherry Festival Preserves
Directions
Heat oven to 350°.  Spray mini muffin pan with non-stick spray.
In a large bowl, combine sugar, brown sugar, butter, and peanut butter.  Beat at medium speed until creamy.
Add egg and vanilla and continue beating until well mixed.
Add flour, baking soda and salt.  Beat at low speed until well mixed.
Shape dough into 1-inch balls.  Place into prepared mini muffin cup.  Bake 11-13 minutes until lightly browned.
Remove from oven and press a round object (we used a silicone wine cork, a small spoon would also work) into the center of each cookie, but not completely to the bottom.  Cool 30 minutes and remove from pan.
With a small spoon, fill each cup with Benjamin Twiggs Cherry Festival Preserves or Michigan Cherry Jam.
Enjoy!
Makes 40-48 cookies.