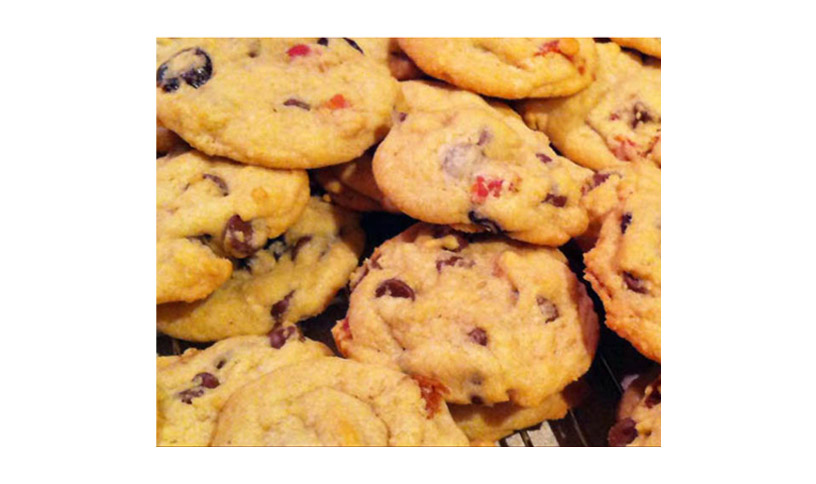 Ingredients
2½ C flour
½ t baking soda
1 C brown sugar, packed
½ cup sugar
1 C unsalted butter, softened
1 T vanilla extract
2 eggs
1½ C semisweet chocolate chips
½ C Benjamin Twiggs Dried Cherries
½ C finely chopped bacon, cooked* and well drained
Directions
To cook bacon:
Preheat oven to 350°.  Place a cookie rack on a cookie sheet with sides and place bacon in a single layer on the cookie rack.  Bake for 18-20 minutes.  Let cool.  Chop into small pieces.
To make cookies:
Preheat oven to 325°.
Sift flour and baking soda into a small bowl; set aside.
Combine the sugars and butter and mix with an electric mixer (use paddle attachment) until light and fluffy.  Add vanilla extract.  Add the eggs and mix until thoroughly combined.
Stir in the flour.  Add the chocolate chips, dried cherries and bacon.
Line cookie sheets with parchment paper.  Place heaping spoonfuls of the cookie dough on the cookie sheets, leaving 2 inches between each cookie.  Bake for 12 to 15 minutes or until golden brown.  Remove from oven and allow to cool for about 10 minutes before transferring to cooling racks.  Store completely cooled cookies in an airtight container.
Makes about 36 cookies.