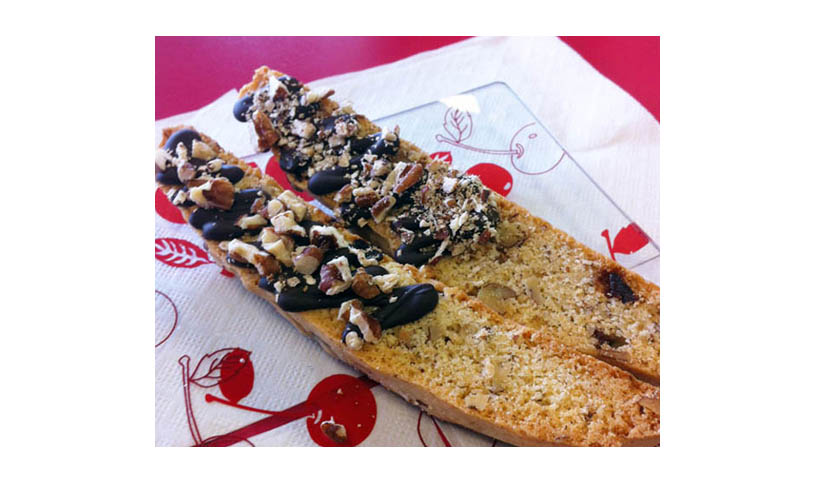 Ingredients
2 cups all purpose flour
1½ tsp baking powder
¼ tsp salt
¾ cup sugar
½ cup (1 stick) softened butter
2 large eggs
1 tsp vanilla
1 cup *roasted pecans, roughly chopped, separated into two ½ cup portions
½ tsp cinnamon
½ cup Benjamin Twiggs Dried Cherries, chopped
2 cups semi-sweet chocolate chips
Directions
Preheat oven to 350° and line a baking sheet with parchment paper. In a large bowl, add butter and sugar and combine until creamy.  Add the eggs one at a time.  Add vanilla.
In another bowl, combine the flour, salt and baking powder.  Add the dry ingredients to the wet, mixing well as you add.  Add cherries and ½ cup roasted pecans.
When you have a nice dough (consistency of shortbread), place on your baking sheet and form it into a 16″ x 3″ log.
Bake for 30 minutes or until golden brown.  Let cool on a rack for at least 30 minutes.  Once cooled, slice your biscotti with a serrated knife at a diagonal in ½" slices.  Place them back on the baking sheet, cut side down for about 10-12 minutes, again at 350°.  Let cool.
In a microwave-safe bowl, melt the chocolate chips at half power in one minute increments.  Dip ends of individual biscottis into the chocolate and sprinkle with the chopped pecans.  Place on waxed paper and let cool.
Makes 20 biscotti.
*to roast pecans, place on baking sheet and bake at 350° for 5-7 minutes