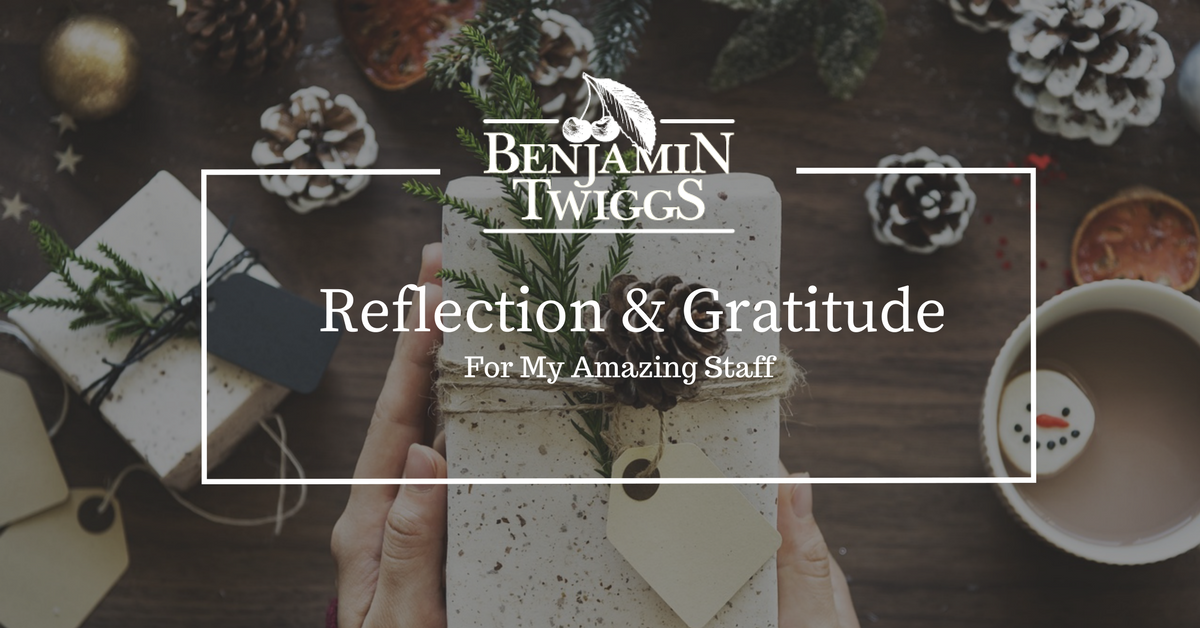 There's nothing like a holiday season and brand new year to prompt reflection. This time of year continues to consistently fill me with a sense of gratitude – for the family here at Benjamin Twiggs.
Santa's got his elves, and I've got a terrific staff I refer to (with the deepest affection) as the Twigletts.
They're the engine that makes this place run, and they endure a lot. This time of year means they've spent hours on end standing on their feet packaging thousands of gift boxes for corporate gift recipients. Each box with the same level of care and attention – and make no mistake, the boxes and packing materials look fantastic, but they take a toll on your hands – especially in the dry winter season. You'll never hear them complain though, even when they have to wear gloves to protect their hands.
With the patience of saints and genuine cheerful smiles, they attend to every customer, even offering expert guidance to the indecisive souls that stop by.
The holiday season brings out the best in them all. Take, for example, my operations manager Lora. During our busy holiday season, she works seven days a week to ensure that every holiday gift basket gets packaged, every internet purchase gets fulfilled, and all of the employees have clear directions in a very fast-paced time of year.
It's important for them to know how much they mean to me; how much I swell with pride and tear up in gratitude. It's also important that you know the dedication and excellence of the friendly face that just rang up your purchase, or offered to pour you a cup of coffee.
Our success is because of the Twigletts, who I deeply treasure.