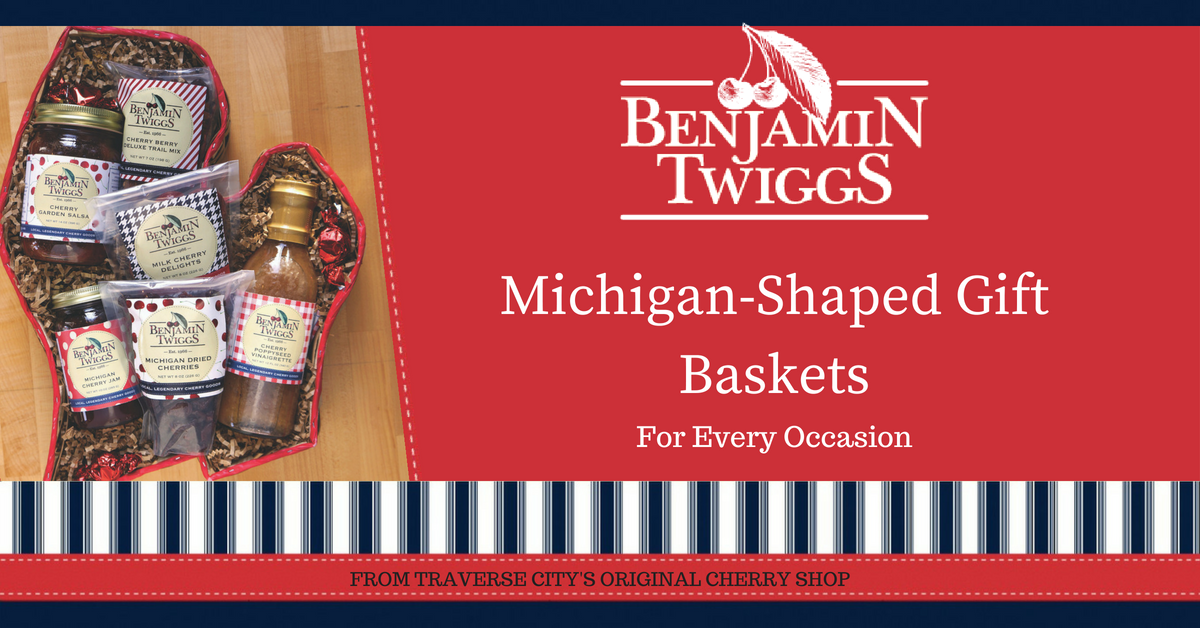 When we say Michigan gift baskets – we mean it. These are local legendary cherry goods, a taste of here from here. Not only do the products inside get sourced and crafted here, but the basket is shaped like Michigan's lower peninsula too.
There's a tongue-and-cheek measurement florists use to size your arrangement appropriately. "How mad is she?" Our Michigan gift baskets come in four different sizes of "How much Michigan do you want to give?" Each size gift tray can be displayed or re-used by the recipient and comes with different contents at price points for every occasion.
Mini Michigan Tray
Classic cherry jam made only with plump Michigan tart terries, pectin, and natural GMO-free cane sugar. A succulent flavor to try topped on dessert or toasted artisan bread.
Smooth milk chocolate envelops dried Michigan cherries. This distinctive snacking treat is also useful for baking – just substitute for chocolate chips in your favorite cookie recipe.
At under $21, it's a popular choice for high-volume or frequent corporate gift programs. It's also a great way to give just a taste of Michigan to let someone know you're thinking of them.
Michigan Cherry Jam (10 oz)
Chocolate Covered Dried Cherries (2.5 oz)
Small Michigan Tray
The happy snacker's sample pack. Sweet and sour delights include two types of chocolate covered dried cherries, yogurt covered dried cherries, two sour candy options, and the famous Cherry Berry Deluxe Trail Mix. There are enough options to share, though the receiver probably won't.
Coming in at about the $30 mark, it's a popular choice for holidays, birthdays, and those moments you need to show someone how much you appreciate them.
Cherry Sours (2.5 oz)
Cherry Sour Patches (2.5 oz)
Dark Chocolate Covered Dried Cherries (2.5 oz)
Chocolate Covered Dried Cherries (2.5 oz)
Cherry Berry Deluxe Trail Mix (2.5 oz)
Snow (Yogurt) Covered Dried Cherries (2.5 oz)
Medium Michigan Tray
This basket is like Mrs. Twiggs' own swiss-army knife. You've unlocked cooking and entertaining. Salads like you'd order at your favorite Traverse City restaurant, Cherry Trifles, or coconut cherry thumbprints. Dried cherries in your baked goods, breakfast foods, (salads), main dishes. Mrs. Twiggs likes to snack on the Cherry Delights and Trail Mix while she cooks or bakes.
This is a lot of Michigan for under $70. While a determined individual can devour a small or mini tray pretty rapidly, the medium Michigan gift basket has staying power. Your thrilled recipient will remember you on numerous occasions.
Cherry Poppyseed Vinaigrette
Dried Cherries (8 oz)
Cherry Festival Preserves
Cherry Berry Deluxe Trail Mix (6 oz)
Milk Cherry Delights (8 oz)
Cherry Salsa
Large Michigan Tray
How much Michigan do you want to give? Let's go with twelve pounds of ambrosial awesome – the full Cherry Festival experience any time of year. The very best mouth-watering choices are barely contained in this 17 inch Michigan basket.
Generously portioned bags contain luscious chocolate and sweets, cherries, berries and more. Our most popular jars of gourmet delights, and world-famous Cherry Bing Tea.
The perfect big thank you, welcome, or jaw-dropping appreciation. Send this gift to an entire office staff or another group that will quickly gather around wide-eyed and grinning.
Milk Cherry Delights
Cherry Berry Deluxe Trail Mix 6 oz
Michigan Dried Cherries 8 oz
Chocolate Covered Dried Cherries 8 oz
Cherry Sour Patches 8 oz
Cherry Poppyseed Vinaigrette
Michigan Cherry Jam
Cherry Fudge Topping
Cherry Raspberry Preserves
Cherry Bing Tea
Bring Michigan to Your Event
Don't forget Benjamin Twiggs specializes in bringing the taste of Michigan as intriguing wedding favors, special occasion gifts, and trade show handouts. The individual packages offer lots of options both in selection and labeling. Choose from standard labels, customized, or even supply your unique labeling – lead time varies. Learn more about at our custom gifts page, or give us a call today. Your favors will be the topic of discussion during and after the event.