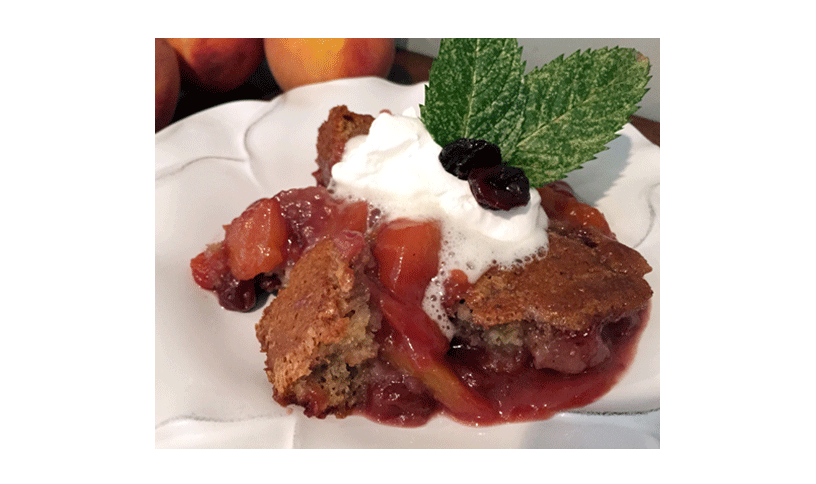 Ingredients
4 cups of fresh peaches (peeled and sliced)
1 cup of fresh pitted and halved cherries
1/2 cup of Benjamin Twiggs Michigan Dried Red Cherries
1/2 cup of Benjamin Twiggs Tart Pitted Cherries in Water (drained)
1 cup brown sugar
1/2 cup of water
1 tsp of cherry brandy
1 stick of butter
2 cups of all purpose flour
1 cup sugar
1 1/2 tsp of baking powder
1 tsp baking soda
1/2 tsp ground cinnamon
1 1/2 cup of milk
1/2 tsp vanilla extract
pinch of salt
Directions
Preheat over to 350 degrees.  Place stick of butter in 9×13 pan and place in oven until melted and slightly browning.
Combine peaches and all cherries and brown sugar in a medium saucepan with water and bring to a boil.  Simmer for 10 minutes.  Add cherry brandy and stir.  Remove from heat and reserve 1/2 cup of liquid.
Sift together sugar, flour, baking soda, baking powder with cinnamon and salt.
Stir milk and reserved liquid and slowly whisk into the dry ingredients.
Pour mixture over melted butter into baking dish.  Do not stir.
With a slotted spoon place fruit over top of the cobbler mixture evenly and then pour remaining liquid over the top of entire dish.
Sprinkle dish with turbinado sugar, if desired.
Bake for 30-45 min or until crust is risen and golden brown.  Place sheet pan under baking dish to prevent spill-over in oven.
Best eaten warm with a scoop of homemade vanilla ice cream!
Thank you, Renee Camacho, for sharing this wonderful recipe with us!