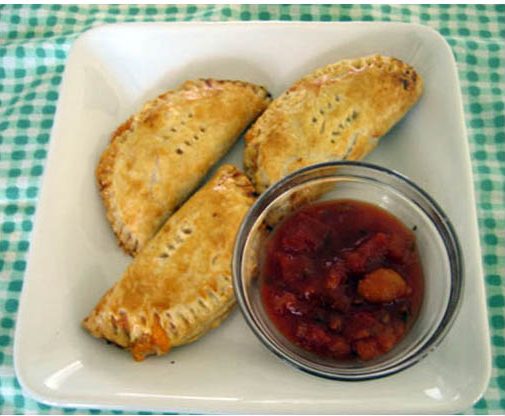 Ingredients
1 box (15 oz.) refrigerated pie crusts (two 11-inch rounds)
4 oz.  1/3 less fat cream cheese at room temperature
3 tablespoons Benjamin Twiggs Cherry Salsa
½  tsp.salt
1 cup of finely chopped cooked chicken
½ cup of Mexican cheese
1 egg, beaten
Directions
Remove pie crusts from box and let sit at room temperature for 20 minutes.
Stir room temperature cream cheese in bowl until soft. Add salsa, salt and stir.
Add the chicken and mix in well.
Unfold the pie crusts and roll out slightly on a lightly floured surface. Cut crust into 3 or 4 inch rounds using a biscuit cutter or drinking glass.
Keep re-rolling pie crusts scraps and using to cut additional rounds.
Makes about 15-20 rounds depending on the size of your cutter.
Preheat oven to 425 degrees. Place about 2 teaspoons of chicken mixture in center of each round. Tope with some of the cheese. Brush edges of crust lightly with water. Pull one side of dough over filling to form half circles. Press to seal with the tines of a fork.
If you want to make more of a meal out of this, you can use full rounds , use twice the filling and cheese, top with another whole round.
Place on foil lined baking sheets and brush lightly with the beaten egg.
Bake 16 minutes or until brown on top. Serve with additional Cherry salsa.