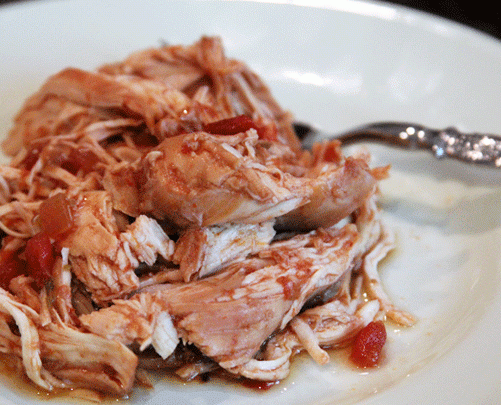 Ingredients
4 boneless, skinless chicken breasts*
2 cups (about 1 ½ jars) Benjamin Twiggs Cherry Salsa OR Benjamin Twiggs Sweet Cherry Salsa OR our new Benjamin Twiggs Cherry Garden Salsa
salt and pepper
*You can use just about any cut of chicken for this recipe. Boneless is recommended to make shredding easier.
Directions
Place chicken breasts in a slow cooker and cover with salsa. Toss until the chicken is covered.
Cover and cook on high for 4 hours (or low for 6-8 hours), or until the chicken shreds easily with a fork. Shred the chicken in the slow cooker and toss with the remaining salsa and juices until well-mixed. Let it sit for a few minutes so the shredded chicken can soak up the juices. Serve immediately, or refrigerate in an airtight container for up to 5 days. (This chicken also freezes well.)
SERVING SUGGESTIONS:
You can serve this as your entrée by itself. Or on a bun as a sandwich or as your meat in a taco!